HANDS-ON TECHNOLOGY WORKSHOPS
The RDK Tech Summit has evolved into the one-stop conference to stay up to date with the rapid pace of RDK feature development. Instructors include leading architects, developers and test engineers who will discuss the latest updates in RDK technology and share their knowledge during advanced workshops and hands-on exercises.
The RDK Tech Summit will feature two session tracks. The first track will focus on RDK Broadband and will be held all day on Tuesday, October 22nd and the morning of Wednesday, October 23rd. The second track will focus on RDK Video, and will be held the afternoon of Wednesday, October 23rd, and all day on Thursday, October 24th. Both tracks will include comprehensive hands-on exercises on the Raspberry Pi platform and demonstrations on recent feature updates in RDK. You may enroll in either track individually, or sign-up for both.
Both tracks will provide an introduction to the RDK profile, architecture, design considerations, component overviews, Yocto build environment, loading images, and debugging and testing using TDK. *Key topics are listed below but are subject to change.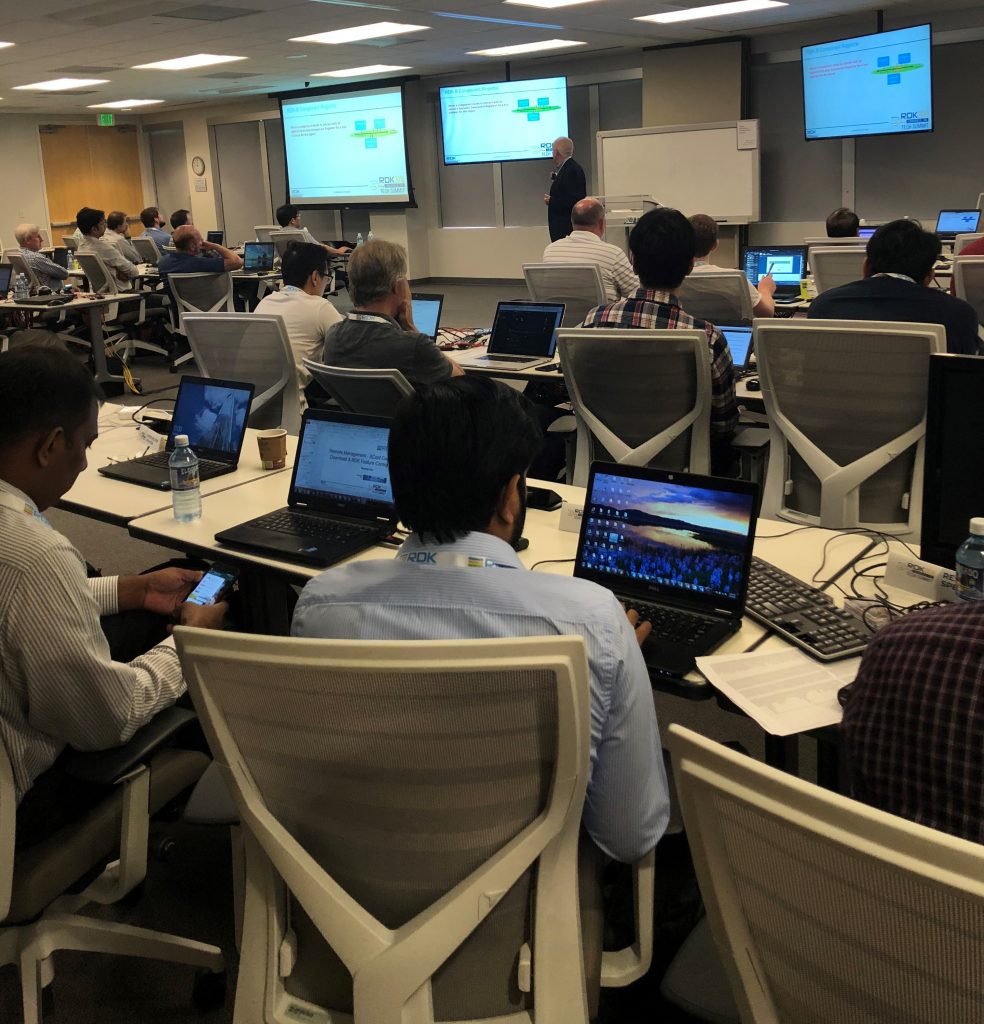 COST: One Track: €990   Both Tracks: €1,350
The cost includes lunch and snacks each day.
Attendees of all sessions are invited to network at our private cocktail reception from 5:00 – 7:00 p.m. on Wednesday, October 23rd.
ASP members are eligible to receive a 10% discount off the  regular rates.  Visit the ASP section of the wiki to obtain the 10% ASP promo code.
ELIGIBILITY: You must be an employee of a company with a current RDK License Agreement to attend. Not a licensee? Visit RDK Central to apply.
RDK B Architecture and benefits
Raspberry Pi bring up
Yocto overview - Yocto new components
Multilingual captive portal - GPON/EPON/DSL
Remote Management TR69 - Remote Management SNMP
Remote Management WebPA
Xconf/Telemetry/LogUpload/RFC - Easy Mesh
Band Steering - EthWan - Logger
Live Debugging - TDK B
RDK V Features, Benefits and Roadmap updates
Raspberry Pi bring up with RefApp - AAMP and FOG
IP video trick-play using FOG - Device Management features
Telemetry feature in Raspberry Pi - WebPA features
Live use case triage - Crash upload and analysis
Lightning workshop - Thunder workshop
RDK Connectivity module - WiFi module
DVB integration in RDK - RDK SoC porting
LedManager integration - TDK V test suite
All Summit events will be held at the SANA Lisboa Hotel:
Av. Fontes Pereira de Melo 8
1069-310 Lisbon, Portugal
Space is limited, so Register for the 2019 TECH Summit today!

RDK Management is an open source consortium that manages the Reference Design Kit (RDK). RDK is an open source software platform for the connected home that standardizes core functions used in broadband devices, set-top boxes, and IoT. It enables operators to manage their devices; control their business models; and customize their apps, UIs and data analytics to improve the customer experience and drive business results. The RDK community is comprised of more than 350 companies including: CPE manufacturers, SoC vendors, software developers, system integrators, and service providers.  For more information on the tools, training, and events provided by RDK Management, please visit: www.rdkcentral.com.  
Copyright © 2019 RDK Management, LLC