About Us
itaas, a Cognizant Company provides unique software engineering expertise in the development, integration, testing, and deployment of embedded video platforms and custom interactive video solutions. Our expertise extends across cable, IP, and mobile technologies including RDK, EBIF, tru2way, HTML5, iOS, and Android.
We provide services for most of the top MSOs and have award-winning apps on tablets and connected TVs. Call 678-527-8500 today to discuss ways to leverage our resources to reduce your operational costs and generate revenue!
RDK
itaas, a Cognizant Company joined the RDK initiative early and began investing time, engineering resources, and infrastructure to build RDK expertise within our company. Our engineers have been working closely with MSO's, OEMs and SoC vendors to move toward deployed RDK solutions. RDK provides the industry with a way to accelerate the deployment of new products and services. And itaas is helping. Our experienced technical resources and advanced lab facilities can help you no matter what your role is in RDK deployment. Here's how:
MSO

itaas, a Cognizant Company can help with the development of MSO-specific client software and applications. Our neutral, third party status in the industry makes us the perfect choice as an integrator to tie together solutions from multiple vendors.

OEM

We have extensive knowledge of set-top box and gateway development and infrastructure and we can provide RDK software development, integration and testing services to speed the deployment of new hardware.

SoC Vendors

Our team has been deeply involved with SoC vendors and OEM companies in integrating new RDK solutions. We can ramp up quickly to develop solutions that help speed the integration of RDK software onto new platforms.

App Providers

New application providers can leverage the itaas RDK and HTML5 development expertise to rapidly develop applications and prototype demos. Application developers are then free to focus their own resources on product definition and business development.

Hardware Development Platform (HDP)

The RDK Hardware Development Platform (or HDP) is the approved development environment for RDK licensees.

It is a simple, low-cost design that eliminates the need for a headend and the requirement to provision the box. With the HDP, developers can create new software and test applications without the need for extensive hardware. This solution was created to help speed the development and testing process, but is also a great way to show new solutions to customers in remote locations or at trade shows.
Click Here to see all specs and terms.
Introduction to HDP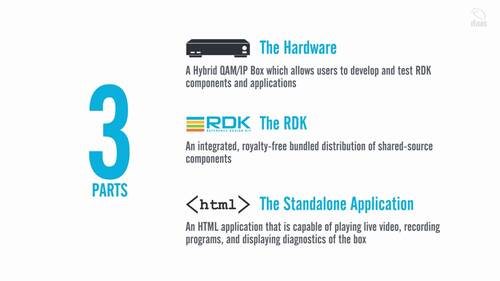 IARM Manager and Bus ~24